Exclusive Shoreside Events
UMAUMA FALLS MAKAHIKI GAMES
HILO, HAWAII | FEBRUARY 2, 2021
Embrace the joyous traditions of Hawaii amid the magnificently lush landscapes of the Big Island. Begin with a panoramic drive through Hilo, an easygoing town wrapped around a shimmering bay like an emerald necklace. At the Umauma nature center, which boasts a stunning triple waterfall, you'll rejoice in a rewarding immersion into Hawaii's rich heritage. Test your mettle during the Makahiki Games, perhaps hurling a spear in the sport of 'o'o ihe or thrilling the crowd with an amusing haka moa fight, where both competitors' limbs are hopelessly tangled. During the spirited revelry, you'll appreciate exuberant live Hawaiian entertainment. At a private marketplace, browse a selection of enticing items lovingly crafted by local artisans, and partake in a farm-to-table lunch, elated by the spectacular surroundings and the exceptional warmth of the Hawaiian people.
MYSTICAL DREAMTIME ATABORIGINAL VILLAGE
BRISBANE, AUSTRALIA | FEBRUARY 27, 2021
Delve into the mysteries of Australia's Aboriginal way of life courtesy of the Spirits of the Red Sand cultural experience. Contemplate the Dreamtime, a spellbinding tale of creation, and stroll among the Aboriginal village's gunyah, or dwelling huts. Participate in the time-honored passing of the message stick and smoking ceremony, examine compelling artifacts such as the didgeridoo and delight in a rousing performance of indigenous song and dance, highlighted by the fire lighting ceremony. You'll sit for a feast of Australian-style barbecue, a medley of meat, chicken and fish grilled to perfection. As an honored guest, receive your very own boomerang before concluding your sublime visit with a grand finale show that is sure to elevate your heart and soul to new heights.
ANCIENT BINBIRDIREK CISTERN
ISTANBUL, TURKEY | MAY 17, 2021
Turn back the centuries to the sumptuous era of the Ottoman sultans during an evening cocktail party in one of Istanbul's most astonishing locations, the subterranean Binbirdirek Cistern. After dinner on board, transfer to the heart of Istanbul and enter the truly remarkable 5th century Binbirdirek Cistern, a man-made, underground former water reservoir that is the second-largest of its kind in the city. Weave among 224 marble columns nearly 50 feet tall and discover the enchanting recreation of a Turkish bazaar, where you'll be invited to sample local delicacies, canapés and Turkish coffee. As you indulge in a bespoke cocktail, revel in entertainment such as bewitching belly dancers and folkloric performers that bring to life the exotic and irresistible allure of Turkey.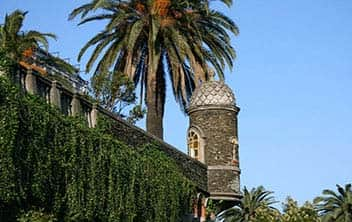 ALPEMARE BEACH RESORT FEATURING MATTEO BOCELLI
LIVORNO, ITALY | MAY 31, 2021
Journey to the resplendent Ligurian Coast for a privileged visit to Alpemare, the Bocelli family's fabulous seaside resort, where you'll enjoy a wine tasting and lunch followed by world-class musical entertainment. You'll rejoice in Alpemare's magical setting, a fragrant pine grove framed by the towering Apuan Alps. Surrounded by the natural splendor, sample a selection of Bocelli wines before sitting for an exceptional lunch at the resort's restaurant, an elegant room caressed by sea breezes. In the adjoining villa, take in a superlative concert featuring musicians, singers, and dancers as well as an exclusive performance by special guest Matteo Bocelli, son of Andrea and a marvelous tenor in his own right. There's no doubt you'll recall your divine day in unforgettable Alpemare with treasured fondness for many years to come.
RIVERDANCE PERFORMANCE AT THE MANSION HOUSE
DUBLIN, IRELAND | JUNE 19, 2021
Applaud the exquisitely talented Riverdance troupe during this private performance at one of Dublin's most storied venues. Gaze admiringly at the 18th century Mansion House, official residence of the Lord Mayor of Dublin, and listen for the echoes of Pope John Paul II, Queen Victoria, Prince Rainier III and Princess Grace of Monaco, just a few of the luminaries that have graced the elegant building. Under the twinkling lights of the Round Room's dome, revel in the mesmerizing dexterity of Riverdance's perfectly synchronized choreography, whose elaborate footwork is perfectly complemented by evocative Irish music. You'll understand why more than 25 million people in 47 countries have been electrified by over 11,500 performances, as this glorious celebration of the Irish spirit can't help but bewitch all who come under its spell.
MAGICAL ULURU: AYERS ROCK 3 NIGHTS | FEBRUARY 27, 2021 Become entranced by wondrous Ayers Rock, a massive monolith in Australia's northern territory that the Aboriginal people hold sacred and call Uluru. Following an exploration of Brisbane and its koala sanctuary, you will fly towards Uluru-Kata Tjuta National Park, a World Heritage site with spectacular geological formations, including Ayers Rock. To fully appreciate its beauty and cultural importance, you will observe the monolith at sunrise and sunset, behold its ancient rock paintings and hear stories of how the Aboriginals believe it was created during The Dreaming, a mythological period in which the natural world was shaped. You will also dine under the stars in the desert and observe the stunning Field of Light art installation that bathes the landscape in a spectrum of colors. Price: TBD (Call for details)
MAGNIFICENT MACAU
1 NIGHT | MARCH 24, 2021
After an exhilarating helicopter ride, you will arrive in tiny Macau, a Special Administrative Region within China that is still relatively autonomous. When the Portuguese settled here in the 16th century, Macau became the country's first European colony, and the Portuguese influence is still prominent, even though Macau was returned to China in 1999. You will dine on Portuguese tapas, visit the extraordinary ruins of the Portuguese-built Church of St. Paul's and hear Portuguese spoken throughout the city, as it remains the official language. You will also visit landmarks with a Chinese flair, including the exquisite Mandarin's House and the A-Ma Temple, which was constructed in the 15th century to commemorate a sea goddess. A Cantonese dinner will follow at your hotel, the Four Seasons.
Price: TBD (Call for details)
HUE, DA NANG AND HOI AN
2 NIGHTS | MARCH 27, 2021
Once the imperial city of the Nguyen emperors, Hue still enchants, as you will discover at the 19th-century royal citadel and the lavish Palace of Supreme. A dragon boat cruise down the meandering Perfume River will present a different side of Hue, as will visiting one of its holiest pagodas. Da Nang is equally impressive, especially its enlightening Cham Museum and picturesque Marble Mountain. It also offers easy access to Hoi An, a World Heritage site that is an exceptionally well-preserved example of a centuries-old trading port. A flight to Ho Chi Minh City, more commonly known as Saigon, will give you the chance to see an array of remarkable attractions, including the Reunification Palace and Notre Dame, a Romanesque-style cathedral that French colonists built.
Price: TBD (Call for details)
TEMPLES OF BAGAN
1 NIGHT | APRIL 13, 2021
Gain insight into the religious devotion of Myanmar's people by visiting several ancient temples that are representative of the thousands of temples built across the plains of Bagan in the 9th through 13th centuries. Ananda Temple is considered a masterpiece of Mon architecture, while Sulamani Temple displays some of Bagan's finest ornamental work. The gold-plated Shwezigon Pagoda is another architectural gem from the same time period and is so stunning that its design became the prototype for countless pagodas that followed. Bagan is also renowned for lacquerware, and you will have the opportunity to watch artisans create various pieces step by step using traditional methods. For a candid glimpse into daily life, you will visit an open-air market and interact with the local residents.
Also available: Authentic Inle Lake
TAJ MAHAL: THE ETERNAL MASTERPIECE
3 NIGHTS | APRIL 18, 2021
Behold the extraordinary Taj Mahal at sunset, when the white marble mausoleum appears to change colors as it reflects the sun's parting rays. Considered a masterpiece of Indo-Islamic architecture, the 17th-century complex is so stunning that UNESCO deemed it a World Heritage site. A classical kathak dance performance follows, allowing for an even deeper glimpse into India's culture. This tour also offers remarkable options. You might spend a morning exploring glorious Fatehpur Sikri, the capital of the Mughal Empire, or opt to visit Fort Agra, an imposing red sandstone building that has also earned World Heritage site status. Afternoon choices include browsing a historical tomb adorned with marble inlays, shopping for emerald jewelry and consulting an astrologer for a personal horoscope.
Also available: Taj Mahal & The Best of Bhutan