Insignia Suites And Staterooms
After a day spent exploring the world's delights,  your luxurious suite or stateroom provides a welcoming retreat. Designed with an eye for exquisite detail and supreme comfort, our spacious accommodations ensure that you always feel perfectly at home. From the gracious furnishings to the upscale toiletries, every amenity you could imagine is right at your fingertips. Whether you are indulging in the complimentary room service or lounging on the heavenly Prestige Tranquility Bed, this is the ultimate sanctuary in which to relax and recharge.
Every suite and stateroom features the Prestige Tranquility Bed, an Oceania Cruises exclusive

FREE and unlimited soft drinks and bottled water replenished daily in your refrigerated mini-bar

24-hour Butler service in all suites

Wireless Internet access

Bulgari Amenities 

FREE room service menu 24 hours a day

Signature Belgian chocolates with nightly turndown service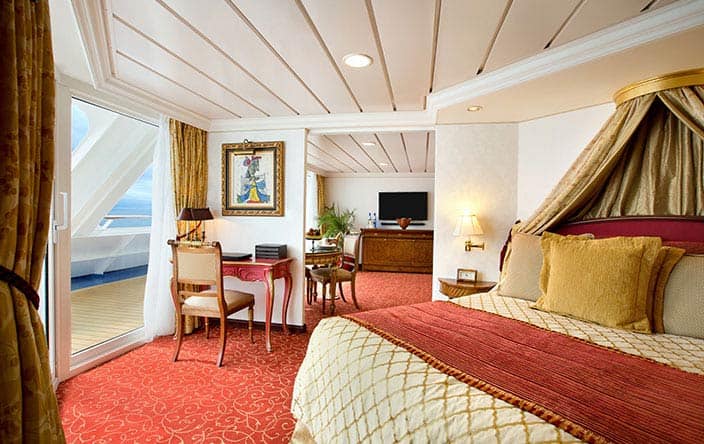 OWNER'S SUITE | Category  OS
Immensely spacious and exceptionally luxurious, the six Owner's Suites are among the first to be reserved by our discerning guests. Spanning nearly 1,000 square feet, these magnificent suites are fit for royalty. Every imaginable amenity is found here, including a newly renovated bathroom with a lavish oversized shower, a private teak veranda, two flat-screen televisions and a laptop computer and iPad® for your personal use.
VISTA SUITE | Category  VS
Overlooking the ship's bow, the four Vista Suites each sprawl over 786 square feet. Every creature comfort is here, including a second bathroom for guests as well as a master bathroom redesigned in onyx and granite with a luxurious new shower. Relax on the private teak veranda, listen to music in surround sound or watch a DVD on one of two flat-screen televisions. Access the Internet wirelessly on the provided laptop computer or iPad®.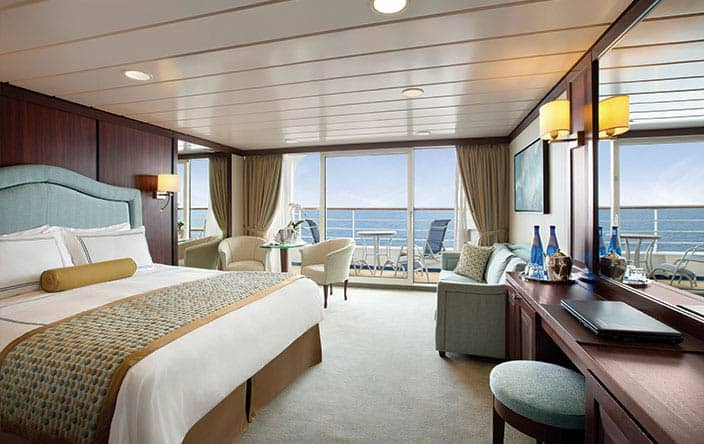 PENTHOUSE SUITE | Category PH1 | PH2 | PH3
Our collection of 322-square-foot Penthouse Suites has been completely transformed with splendid new decor and exquisite new furnishings in serene shades of the sea and sun. Spacious enough for private in-suite dining, the living area features a refrigerated mini-bar and vanity desk, and the granite-clad bathroom is large enough for an indulgent full-size bathtub. Relax on the beautifully furnished private teak veranda.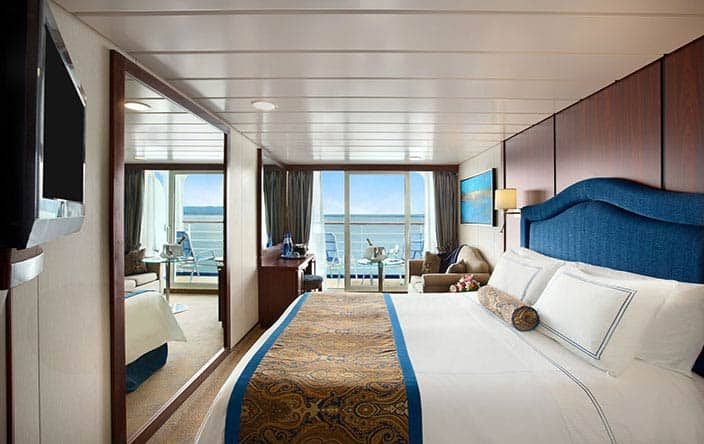 CONCIERGE LEVEL VERANDA STATEROOM | Category A1 | A2 | A3
These luxurious accommodations feature a wealth of amenities, including many of those found in our Penthouse Suites, and the luxury is further enhanced by the rich new decor. These 216-square-foot staterooms offer a private teak veranda, refrigerated mini-bar and plush seating area, as well  as exclusive Concierge Level amenities and privileges.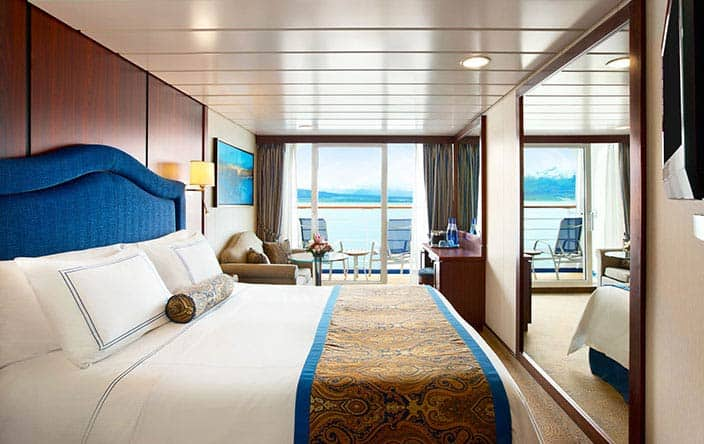 VERANDA STATEROOM | Category  B1 | B2
Elegant new decor graces these handsomely appointed 216-square-foot staterooms that boast our most popular luxury – a private teak veranda for watching the ever-changing panoramas. The conveniences within each stateroom are just as accommodating and include a vanity desk, refrigerated mini-bar, breakfast table and spacious seating area.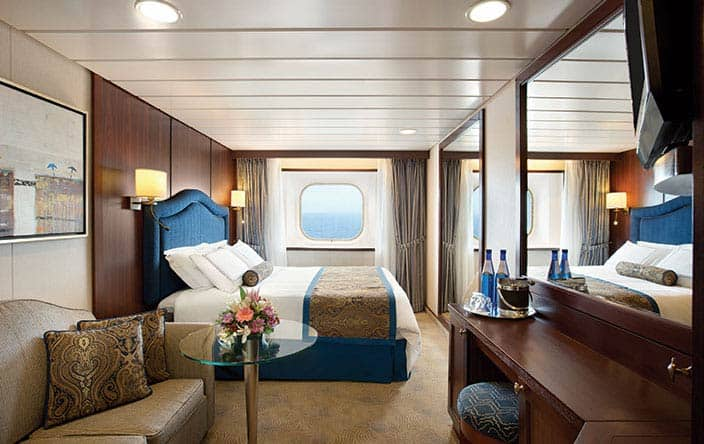 DELUXE OCEAN VIEW STATEROOM | Category C1 | C2
With the curtains drawn back and the natural light streaming in, these newly redecorated 165-square-foot staterooms feel even more spacious. A generous seating area, vanity desk, refrigerated mini-bar and breakfast table are perfectly complemented by the rich hues and stylish fabrics of the new decor.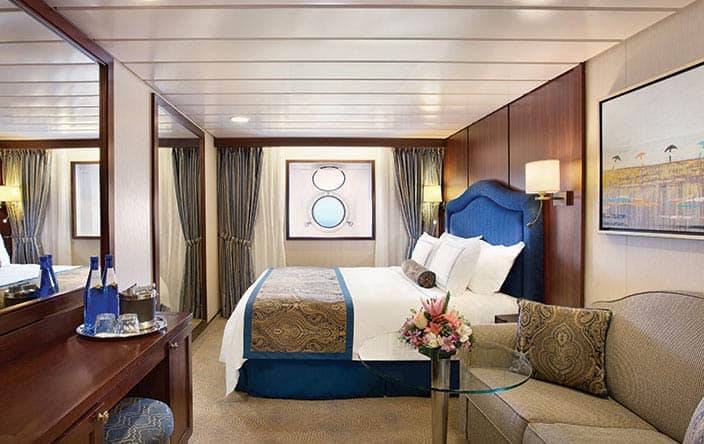 OCEAN VIEW STATEROOM | Category  D
The light from a classic porthole illuminates the stunning new decor in these 165-square-foot staterooms, tastefully designed to maximize space and convenience. Enjoy a comfortable seating area with a sofa on which to stretch out, as well as a vanity desk, breakfast table and refrigerated mini-bar.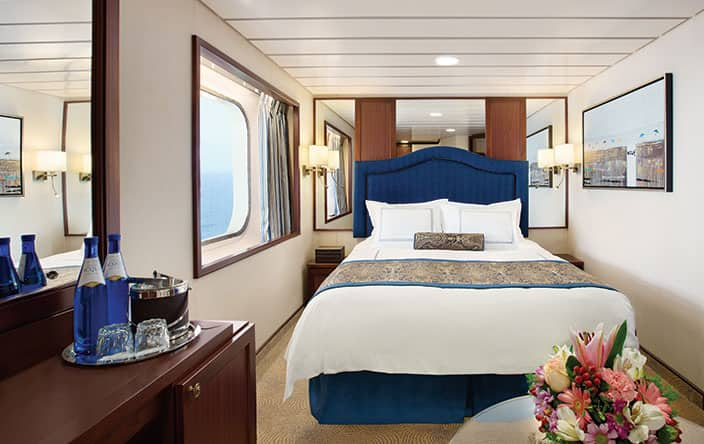 OCEAN VIEW STATEROOM | Category E
Centrally located on deck 6, these elegant 143-square-foot staterooms offer stylish new furnishings and a panorama window with obstructed views. Features include a vanity desk, refrigerated mini-bar, small breakfast table and an ample closet.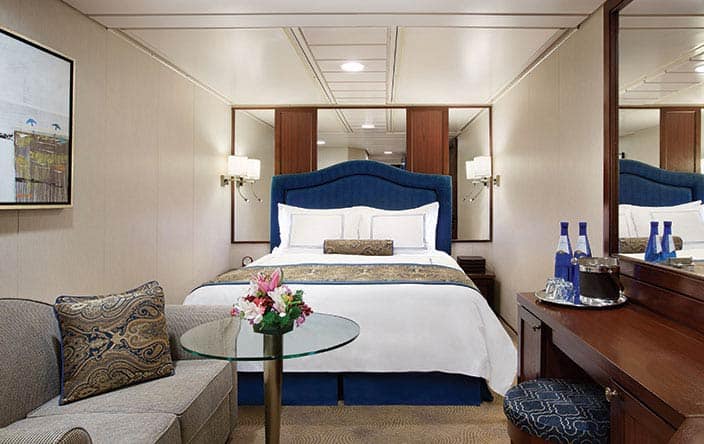 INSIDE STATEROOM | Category F | G
Beautifully renovated with style and flair, these delightful private retreats boast 160 square feet of luxury. Highlights include a comfortable seating area, vanity desk, refrigerated mini-bar and plenty of storage. The ingenious use of space is complemented by the rich new decor.